How Family Fun Boxes Started
- The Story -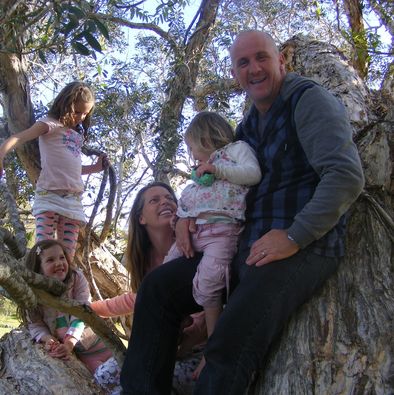 Family Fun Boxes began as an idea for our own little family of 5. It probably began way back before kids came along though.
Mike and I met at Outward Bound Australia an organisation which takes kids out bush for 7 to 10 days to learn practical bush survival skills and to help them discover what their strengths and unique gifts are.
Besides being in the beautiful outdoors with no technology, the thing we noticed which really helped kids feel at ease and shine was all the fun, interactive 'Get to Know You' activities and games we played.
It was so wonderful watching the kids let their guards down one by one - laughing heartily, opening up and bringing out the best in each other.
This sparked an idea. We discovered through a series of fun trials - using our family and friends as 'guinea pigs' - that adults also thrived on mucking about and being playful too…Thus a business was born in the early 2000's called Interactive Events.
Mike became the cheeky and playful MC. I became pregnant after a few years and ended up being drawn to the role of motherhood. I was pretty ordinary at multi-tasking work and mothering 3 children! Running down to the home office while bubby was asleep to get some work done didn't last very long!
However, I did keep my creative brain going and continued to have input (with the kids help as well) with contributing ideas to try out and add to our bank of interactive activities for organisations, schools and families.
Then in a heartbeat our wonderful seaside town life got turned upside down
Out of nowhere, our beautiful healthy eldest child got a diagnosis that required ongoing 24/7 management and still does.
It was all-consuming for us as parents. Our family life, marriage & wellbeing went downhill pretty fast.
After some very challenging times, we realised our family really needed to reconnect and get a good dose of these interactive, fun activities ourselves, to help us out of the hole we had gotten in.
So decided to create Family Fun Boxes just for us - to help us truly thrive as a family again.
And it did help our family so much. It boosted our family connection again and looking forward to the fun activities we all came up with individually that we'd do on a Sunday. It gave us a way to find out more about each other and learn what one another loves to do, not just focus on what we like to do ourselves. It helped us all have fun together again.
This is where the real connecting, fun and appreciation of each other's unique gifts and differences started.
It helped us rediscover how fun our kids can be and what a blessing they really are.
So I thought wouldn't it be great to be able to share this Family Fun Boxes activity with other families who may need to get out of a rut too. Or just help any families that may want to create more special moments and experiences together they can look back on and treasure.
So after our youngest started school, I took myself off to a business course and received some great help from mentors to create the Family Fun Boxes - Family Connection Kit.
The Family Fun Boxes are constantly evolving with new ideas for families to help create treasured family experiences as we think of them. We love hearing the stories of the great things kids come up with and how much the parents are enjoying it too.
Another big reason for creating the Family Fun Boxes - Family Connection Kits is because I have seen and heard so many stories from parents about the damage device & screen time addiction is having for families and their relationships.

It has robbed all of us of so much of our precious time with our kids
So the Family Fun Boxes are designed to provide a fun way to help to set aside some time to disconnect from devices & and re-connect with our families. We also call it the Sunday Family Fun Box in the hope of bringing back Sundays - Family Days!
I sincerely hope that any family who happens to bring one of the Family Fun Boxes - Family Connection Kits into their home is genuinely blessed by it; and that it brings so much joy, fun and connection for your family
….and we know that your kids will totally surprise you as they come up with so many ingenious ideas too!
Happy Family Fun Boxing…..
Sarsha XXX